Hope you are doing fine. I am doing some housecleaning again and noticed this old post from Quilt is missing in my blog, so please bear with me ......

(July 2007)
Hi my dear sisters ….. Sorry for making the 'Houdini' disappearing act lately, but no no no, please don't strike my name off the BYJ family list. I haven't defaulted nor evaporated from the face of the earth yet, so what have I been brewing lately?

When I first embarked on this BYJ journey, little did I expect life was going to take such a 180 degrees turn. Gone are the days of my religious inch-by-inch dusting and mopping session conducted daily in my humble dwelling, the endless chat with girlfriends over a Starbucks mocha Latte or the mindless loitering in those mega-bookstores flipping through tabloid magazines to find out the latest love interests of Paris Hilton! Instead, I am proud to pronounce that my everyday life now is filled with purpose and mission : like gluing in front of the computer struggling to create slideshows from our King's droolingly gorgeous pictures, dashing to the local library to claim momentary ownership to those 'heavy as boat anchor, forbidden-to-be-loaned-out' reference books hoping to spark some ideas to write about him, and of course this newest passion of mine – drawing and painting His Royal Handsomeness!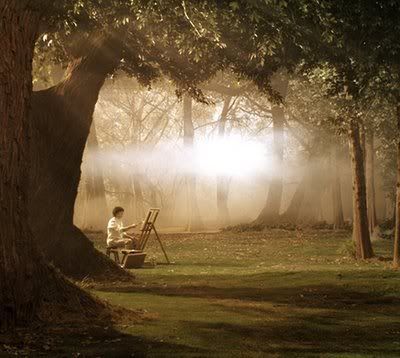 We know so well that BYJ is a man of many virtues. We admire the strength, determination and integrity he showed through his work and conducts. Consciously or subconsciously, we can't help but are influenced by him and his many talented fans whom has no shortage in articulate writers and gifted artists.

But what has possessed this ordinary country girl to even dream about drawing the perfect face of His Royal Handsomeness on paper? Sure, I have held a paintbrush before, like last year when I felt botanical and decided to paint my laundry room walls to 'spring garden lavender' (and still regretting it)! But for someone who has never drawn a perfect circle or straight line free-handed in her life, that sensation is really not too far off from plunging myself down Niagara Falls without attaching to a bungee cord!




As you can sympathize, my dear sisters, at this age, I have no time to waste drawing a bird first and then a fish next, I want to draw His Royal Handsomeness right now! So I plead with my art teacher wearing this pitiable puppy face that I wanted to learn ONLY portrait drawing. For the first few weeks, she just slipped me some drawings of eyes, noses, ears and mouths to copy. I'll tell you, that repetitive practice has tamed my hands to be so steady, now even if I ride on a bumpy winding road at 180 miles/hour, I would have no problem putting on my 'BYJ Deep Moist lip cream & gloss' smudge-free! Before I went berserk copying more noses and ears, Miss Restless here has made an executive decision (behind my teacher's back) - so my dear sisters, this is my very first drawing of BYJ, no principles, no rules (yet) :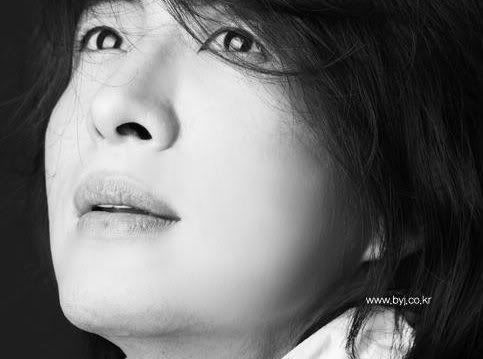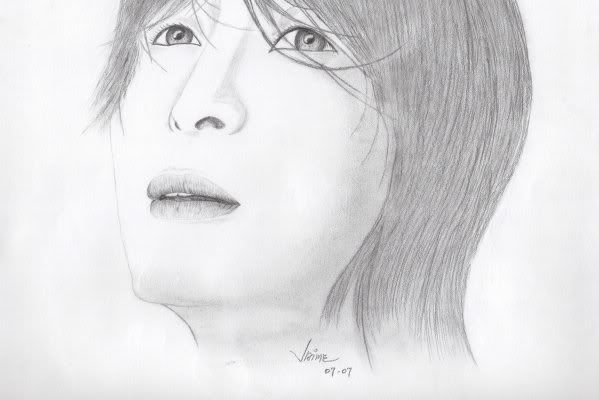 During this creative journey, I find that the most cherished moment was when I tried to capture his soul through his sensual eyes and luscious lips. It called for more than just the eyes and hands, but also one's heart and imagination to accomplish that. From the moment I put down my first stroke, I felt like he was holding my hands and walking this entire journey together with me.

I realize I am still at kindergarten level here, and there is an infinite world of art and knowledge beyond me. I remember Yong Joon always feels that he lacks talent in acting and is not born to be an entertainer. But with his quest for knowledge and determination; he learns, he perseveres and persistently seeks new challenges. This is the man who inspires me from the day I knew him; first on technology, then on writing, and now into this magnificent world of art. Yong Joon ssi, thank you for being my inspiration!