Remember when you were a little girl and mommy used to cuddle you up singing a lullaby or saying a fairy tale before you dosed off in dreamland, huh? Our little minds were overflowing with princess, fairy godmother, beauty and magic. Interesting that regardless of which corner of the world we are at, we somehow listened to the same tales like Cinderella, Snow White and Sleeping Beauty. Fairy tale has indeed become such a precious part of our growing up, hasn't it?
As time passes, practicality and hardships in life has engaged our minds. We no longer have time for dreams and fantasies as we are too busy fulfilling our material needs and social obligations. A lot of our sisters feel we have re-discovered our lost innocence and dreams when we found Bae Yong Joon. I'd like to attempt exploring his phenomenon from a fantasy perspective ......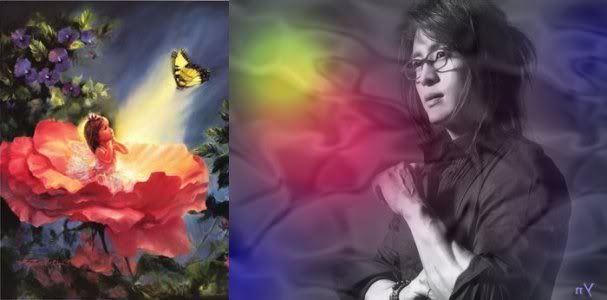 Originated in mythology, fairy (or faerie) denotes a state of enchantment or glamour, the power of illusion, the power of 'beings' who bring blessings. In the lands of Brittany, Iceland and Scandinavia where natural beauty is still largely unspoiled, beliefs in fairy legends remain passionate. The existence of fairy is said to permeate a fourth dimension, freeing it from the confinement of time and space bound by material laws. In union with Animism - a belief that flowers, trees, lakes, mountains and crystals are endowed with spirit, words have 'whispered' out that fairy sightings transpire amidst these vicinities where concentration of natural energy is eminent.
Fairy is celebrated for its captivating beauty, joy and inspiration, humour and mischief. It embraces reality with an illusory sheer, recreating a fantasy realm for both human and itself to cohabit in. If we care to pause and employ our senses, be it admiring a morning dew dripping from a flower petal, breathing in a gentle fragrant breeze across a lavender field or catching a whisper of light in the garden during sunset. We will be enchanted by the delicacy and mystique of fairies - like a ripple of water, a wisp of wind or simply an unbroken silence. Fairy educes our innate wisdom and innocence to resonate our spirits with nature.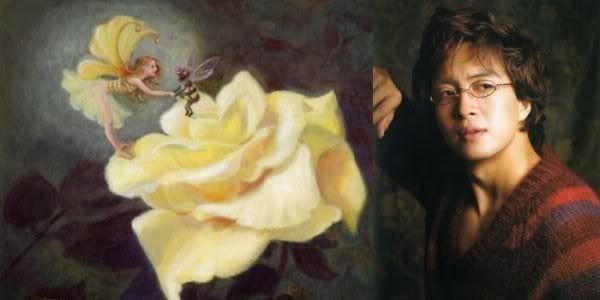 It is my desire to coalesce the purity of Yong Joon with the innocence and beauty in the world of fairies. Our prince charming emanates quality of innocence that exudes his youthfulness, purity that breeds his nobility and sincerity that radiates his beauty. Let him be the window for us to peer into the magical realm of dreams and fantasies once again.

References :
1. A Complete Guide to Faeries & Magical Beings, Cassandra Eason, Judy Piatkus (Publishers) Ltd., 2001
2. Faeries, Brian Froud and Alan Lee, Harry N. Abrams, Inc. Publishers, New York, 1978
3. The Book of Faeries, Francis Melville, Barron's Educational Series, Inc., 2002
4. The Little People - Stories of Fairies, Pixies, and other Small Folk, Neil Philip, Harry N. Abrams, Inc., 2002
5. The World of Fairies, Gossamer Penwyche, Sterling Publishing Co., Inc, New York, 2001

Acknowledgement :
1. Thanks to my dear sweet jillie for uploading the music.
2. Some pictures are used from the artworks created by Korachan and Amadienne. Please allow me to thank you here.

Next ...... Fairy II - Art